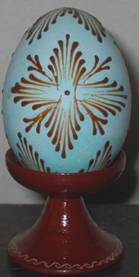 A Hunky-style Pisanka
Copyright 2006, N. Skumanich
Here are a few of my favorite websites:
Eastern Slovakia Research Strategies. This website has a lot of practical information including how to use the on line Slovak phone book.
English Slovak Translator This website is a little tricky to use but the beauty of it is you can enter a word fragment and it will offer you a number of words that begin with that fragment.
Maps of area settled by the Carpatho-Rusyn and of Galicia:
http://www.rollintl.com/roll/galicia.htm
There are a number of Carpatho Rusyn webpages; you can find them easily with Google. But my favorites include the Carpatho Rusyn Society page:
http://www.carpathorusynsociety.org/
Anyone with an interest in Carpatho-Rusyn culture may become a member of the Society. They have information on their website on how to join.
I also highly recommend the World Academy of Rusyn Culture.
There are other family webpages. Kathi Desko has a genealogy page at E Pluribus Unum.
Thanks to the World Wide Web, the Great Rusyn Diaspora has come to an end!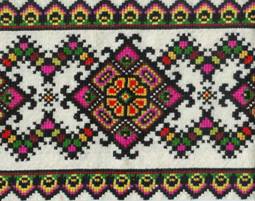 This embroidery was done by a relative still living in Europe.
Copyright 2006, N. Skumanich